Dry Ice Cleaning / 6000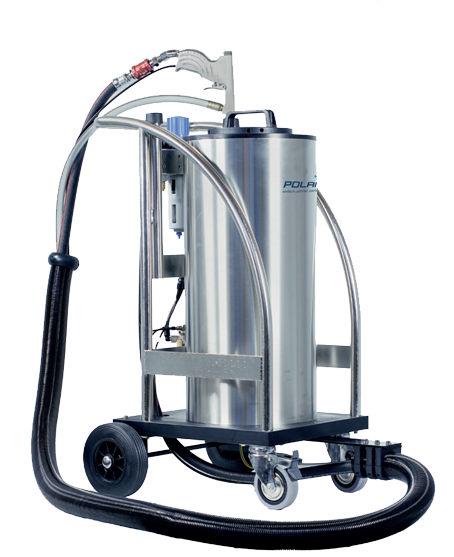 It is the strongest available apparatus for dry ice cleaning. The power of 4000 l / min guarantees the highest standard of cleanliness in the fight against extreme dirt on large areas. With his help, the cleanliness of trains among workshops or large machines will not be a problem, dry ice technology also eliminates the need to use large amounts of water and detergent, it is also safe for electrical installations.
Simplicity:
Handy, compact and lightweight.
Simple and easy to use.
Without connecting to the mains.
Installation in a few minutes.
Handy and lightweight gun for stream cleaning
Large dry ice tank
Saving:
The high efficiency of the cleaning process.
Low consumption of dry ice.
Competitive price.
Polarjet 4000 devices are equiped with adjustable pressure and dry ice supply.
For achieving optimal effect with Polarjet 6000 it is required to use air compressor with performance above 4000 l / min.
Application Polarjet 6000:
Construction - facade cleaning, graffiti, get rid of the remnants of asphalt and cement, restoration of historical monuments.
Electricity industry - cleaning control cabinets, electric motors, switchgear.
Paper industry - cleaning printing machines - removes wet and dry ink, powder, toner, colors, labels, paper dust or adhesive residue.
Package production - cleaning with adhesive labels.
Plastics industry - cleans plastic layer, polyurethane foam.
Food industry - machinery and equipment cleaning of various substances ie. Grease, wax, protein, spices, crumbs, scorching effects, caramel, cocoa, arabic gum, and many others.
Automotive industry - cleaning mold lines with electronic components
Wood industry - cleans the glue production equipment, all kinds of varnish and dirt.
Foundry industry - cleaning aluminum molds, core vents, semi-solid casting and casting machines.
Surface renovation - renovation of fire damage, removing mildew, odor elimination, flood damage, removing weeds, moss removal.